Fez
Fez is located in the northeast of Moroccan. It is a three-hour drive from Casablanca. The city is well known for being one of the cultural and spiritual capital.
It currently has a population of about 1.5 million. It is known for having over 12000 narrow streets and is one of the oldest Arab-Muslim civilization cities.
It is well known to be the world's largest surviving medieval city and is one of its mythical cities.
The medinas hold some of the mosques marking the spiritual and heart of the city. Its fascinating history goes back to the 9th century.
In 1981, the city was classified by UNESCO as a World Heritage site. The city is full of parks and riads with plants, fountains and freshness.
The Medina of Fez is located in a very strategic place. It is at crossroads between different destinations, north-south and east-west.
The Fez medina is a very dynamic part of the city. It is a historic center of bazaars, tourist attractions, and a vital economic center. It holds some significant landmark structures. These include mosques, religious monuments, royal residences and domestic residences. Fes is nationally and internationally well-known for many types of historical artworks.
These include:
Painting on wood
Silk weaving and embroidery
Ceramics, Wrought iron carving
Chiselled copper, Goldsmith's work
The city of Fez is divided into three regions:
Fez el-Jedid: semi-old part of the city.
Fez el-Bali is an old part of the city and Medina.
Fez the young: French authorities built the part of the city at the time of the colonization.
The river called (Wadi Fez) runs through the heart of the city's ancient Medina. This river gives the place a fresh feel and looks to the town. It presents eco-friendly public spaces for locals and tourists alike.
Buildings, structures and architecture testify to the magnificent past of the city. Going through the city and its street, you can vividly observe the traces of these luxurious ancient buildings still very present. They have been preserved and maintained for hundreds of years. This shows that the city is still steeped in traditions and legacy.
The Medina of Fez plays a significant role in the city of Fez. This old part of the city holds many aspects of life inside it. These include economic, social diversity and cultural functions. While navigating throughout the Medina, your full five sens will be activated.
It is truly a heaven for your five senses as they will inevitably be triggered by:
Spicy tajine, delicious, oriental perfume.
The smell of the skin of the tanner and colourful clothes.
Old-looking buildings and the noise of beats of Chaabi music.
Fez's unique sweets desserts.The scent of the oils of the miller.
Weavers, blacksmiths, and shoemakers compete for attention.
Donkeys' pathways as they are the main transport in the Medina. This is because of its narrow streets and alleys.
You will have an unforgettable experience while navigating those small and narrow streets. You will pleasantly get lost in these GPS-unfriendly streets and alleys of the Medina. Getting lost in the Medina will be one of the best medina experiences of your life awaits you.
Inside the Medina are all kinds of craftsmen, including local tanners, Carpenters, blacksmiths, saddlers, leather makers, boilermakers, bakers, butchers, etc.
Riads is a traditional Moroccan type of house, guest house style:
It consists of shared common areas and private rooms. It has an interior garden or courtyard, and some have swimming pools.
They are primarily decorated in an old fashion way. The atmosphere in riads is harmonious and romantic.
Top 9 Places to visit in Fez
If you are a cultural discovery lover, Fez is full of places of interest that inevitably will appeal to you. Some sites that may interest you when visiting Fez are:
1. Dar Batha Museum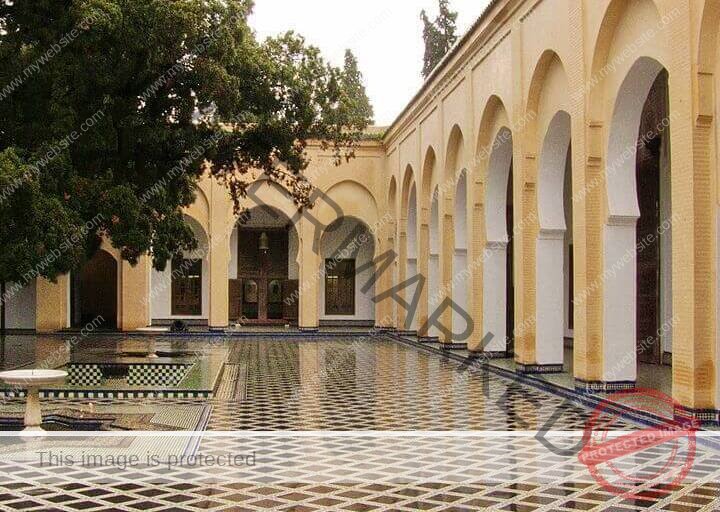 Located in Fez, the Dar Batha Museum in Morocco is a must-see tourist attraction in Morocco. You will be amazed by its art, craft and history. It is a place that you won't want to miss when you visit the city of Fez. This Museum presents an authentic way to connect with the city's history.
Here are some historical facts about this Museum:
Dar Batha, also called Qasr al-Bathawas, was a former royal palace in the 19th century. It is the era of Alaouite Sultan Hassan I and his follower Sultan Abdelaziz. In 1915, the court was remodelled into a museum with about 6,000 collections. Dara Batha hosts and honours some of the unique artwork of the city of Fez that goes back to the 19th century.
Here are some of the ones that will fascinate:
A collection of ancient coins and carpets.
Wrought iron with ornamental finishing touches.
Sculpted wood furnishings, embroidery and fashion jewelry.
The artwork is made from toned plaster or other decorative products.
It unquestionably reflects some of the enticing pieces of art dating back to the 10th century. This blue ceramic reflects most of the ancient designs that have existed throughout the history of the Fez.
The Museum presents an overflowing collection of ceramics and pottery. It is one of the most captivating artworks in the country. Inside the Museum is a pottery space where you will discover an unmatched display of ceramic items.
The Museum presents an overflowing collection of ceramics and pottery. It is one of the most captivating artworks in the country. Inside the Museum, there is a pottery space where you will discover an unmatched display of ceramic items.
Here are some facts about this unique piece of art:
Ceramic art represents the very best part of the Museum. Fez artisans have meticulously handcrafted these ceramic items through the centuries.
For over 1000 years, the ceramics of Fez have been well-known for their blue colour. It is called "Fez blue," which is a colour that is obtained from cobalt.
The ceramic designed by stunning Fassi artistry in cutting-edge methods is cloured using cobalt to produce the bluish colouring.
The attractive ceramics are decorated with white enamel background and dazzling tones of blue.
The blue ceramics reflect most of the ancient designs throughout Fez's history.
Quick Highlights regarding Dar Batha Museum:
The Museum is among the most intriguing Moroccan museums. Batha Museum lies in Medina's heart, and you will not miss it when you get there.
The structure was a stunning palace of Arab-Andalusian design, constructed by Moulay el Hassan in the 19th century.
It has been one of the major tourist sites that had attracted visitors from around the globe since 1915, when the palace was changed into a museum.
The Museum holds many treasures that reveal the traditional art of Fez. These include sculpted wood, embroidery, zellige, wrought iron, precious jewelry, coins, carpets, etc.
In the Museum, there is a massive instrument called an astrolabe. Hipparchus, a Greek scholar of the 2nd century BC, invented it.
2. Chouara Tannery
It is the biggest tannery in Fez. This is where you will learn the authenticity of a tannery by connecting with a tannery specialist. He knows all the steps involved in creating tanned leather, from rawhide leather to good leather.
3. Mérinides Tombs
These tombs are amongst the most visited historical sites in Fez. There were built in the 14th century. It is located on a hill north of Fes al-Bali.
The right time to visit this historical site is before sunset as It provides a clear overview of the Medina of Fez at this time of the day.
You can hike up the hill, or you can take a taxi. Hiking up, if you can, will allow you to mingle with locals on your journey toward the top.
4. Nejjarine Museum:
It is a must-visit site; You will get in touch not with locals but also with part of Fez's history. You will also enjoy a cup of tea on the roof while enjoying Fez's panoramic view.
These of the things that will amaze you about this historical Museum:
It was built in early-18th-century and was made of beautiful woodwork. It has some ancient doors, musical instruments and prayer beads inside.
Inside are also worn wooden boards that students use to recite the holy Quranic. These boards as amazingly patched with copper.
It has a traditional rooftop cafe that provides irresistible views and a fresh look over the Medina in its historic buildings.
You can take photos in the courtyard and from the rooftop but not near the exhibits.
5. Bab Boujloud district: Bab in Arabic means door
This gate was built in the 12th century and was constructed by the French in 1913. There are horseshoe arches made with Fassi green tiles on the inside and blue tiles outside the entrance. This decoration creates patterns in the form of stars and swirls.
It is a monumental gateway and one of the main ones in the Medina, and It is an excellent point for your discovering inside the medina walls. It is also Medina's oldest and busiest thoroughfares for the movement of people, mules, donkeys and mopeds.
The gate is mimicked in Orlando's EPCOT center following the Mauresque-Andalusian style.
It is Fes's oldest city, built around 800 AD. It was the capital city of the Idrisid dynasty from 789 to 808 AD. It became one of the World's Heritage sites in 1981.
It houses the oldest university globally, the University of Al-Karaouine, and It is still operating.
It holds some of the oldest Riads, which are fancier guesthouses. They provide excellent accommodation and an unforgettable experience.
It is one of the most jammed streets of Fez, full of shops and stalls, mosques and Islamic schools called Madrasas.
It has stalls selling fresh fruit and vegetables, Vendors' tourist gimmicks, and Merchants selling dates, spices, and fresh meat cuts.
It is classified as one of the world's most significant car-free urban areas. Its buildings reflect some of the authentic ancient Moroccan styles of architecture. It has some fascinating iconic winding alleys.
7. Jnan Sbil
Fez has a high population density and crowded markets and houses. Yet, there are still many spots where you can experience complete peace in Jardin Jnan Sbil. It is a meticulously manicured garden on the edge of the old part of the city.
Some facts about Jnan Sbil:
It was planted over a century ago, according to historians. It was built in the Andalusian tradition.
It was reopened in 2011 after extensive re-plantation and renovation. The site is in an area of about 8 hectares.
It has fountains, a small lake and paths to walk. It has well-maintained flowers and plants. Thus, It is the place to go whenever you want to have a quiet, peaceful time.
It has many zellij-tiled water gardens. It is an unavoidable picnic pit stop while exploring Fes.
It has a place designed for bird coops, peacocks and doves. It is located about 10 minutes up from the Blue Gate.
8. Bou Inania Madrasa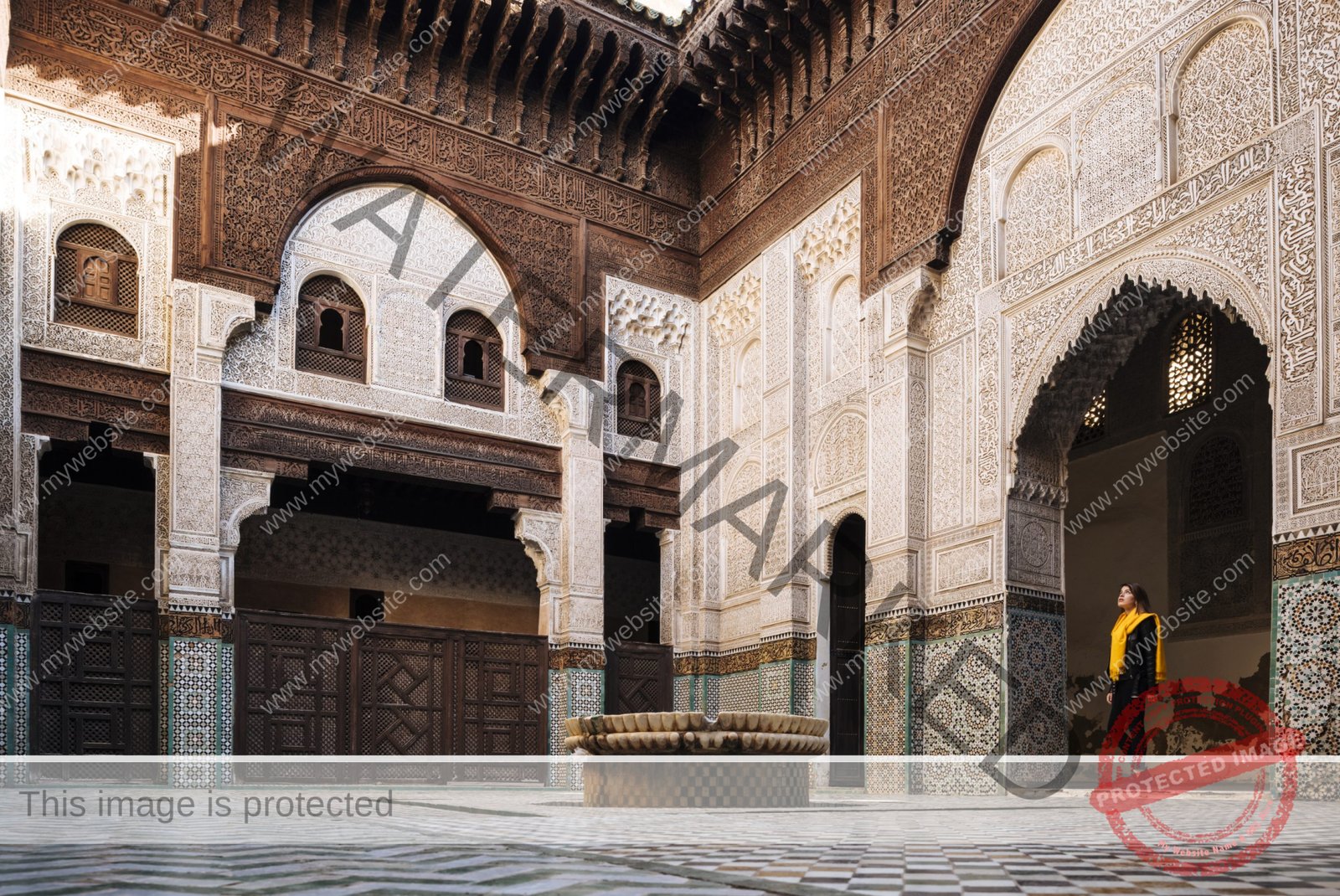 It is one of the ancient religious sites in the country. It was the biggest ever built schools by a Merenid sultan. Thus, you would not want to miss it.
It is one of the most elaborate, extravagant and attractive of all Merenid monuments. Its architecture and design are adapted from Andalusian architecture.
It is used for educating students on religious gatherings. It presents an excellent opportunity for non-Muslims to enter and view the premises.
It is made of dark cedar, skillfully carved with classic zellij tilework and impressive stucco. It has some of the most excellent woodcarving and joinery, representing the Moorish art of laceria.
9. Al-attarine Madrasa ("the madrasa of the perfumers ):
It is one of Fes's oldest mosques, built in the the14th century. It holds 30 rooms for its students.
It was constructed between 1323 and 1325. This was by the Marandi sultan Abu Sa'id Uthman II.
Its architectural structures will surely amaze you. It has a big courtyard, a striking marble fountain, and distinct motifs.
The courtyard represents one of Fez's most beautiful examples of Marinid craftsmanship. It is decorated with fantastic zellige mosaic tiles forming colourful geometric organized patterns.
It has a rectangular courtyard that opens onto a square prayer hall. The courtyard at the center of the madrasa is amazingly ornamented. Its walls are carved and designed with stucco and sections of Arabic calligraphy.