Marrakech is one of the most ancient yet contemporary cities in the world that you will ever visit. It represents the first tourist destination in Morocco. What makes Marrakech an evolution city is its protagonist aspect. It hosts many national and international events. These include art galleries festivals, exhibition conferences, and so much more.  It truly bridges and connects the past and present generations, making a full package city.
What you Don't know about Marrakech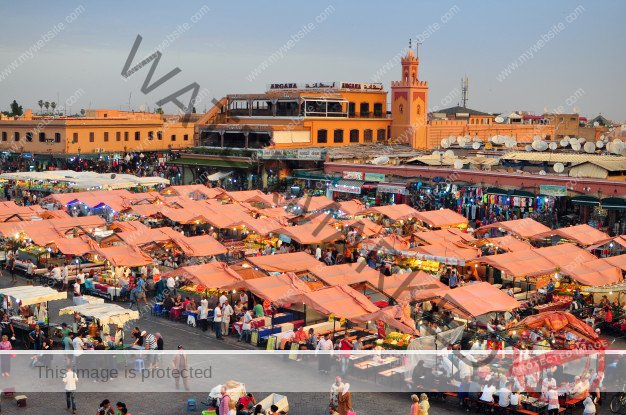 Marrakech deserves to be lived in full. It is truly is the place where you will lose the perspective of time and space. Its true essence is made of warmth and tradition. It truly bridges and connects the past and present generations, making it a full package city. Many tourists worldwide choose to have it as a city of choice and their permanent home.
This historical city proves that it is a beautiful and magnifying place, and your experience while visiting it will be unforgettable, as each stay holds discoveries.
It hosts many inspiring artists, and many celebrities throughout the world come to visit this ancient city. Many stars from around the globe have decided to make Marrakesh their home. This is because of its climate condition, the environment or its food. We know without a doubt that they have fallen for the attractiveness of the red city.
Other various reasons you should visit this ancient and contemporary city besides being mostly sunny throughout the year are:
It was established during the 11th century and is an old imperial city in western Morocco. It has the Koutoubia mosque that has the tallest minaret in the city.
This magical imperial city was founded in 1070 by the Almoravid dynasty during the 11th century. It is the oldest imperial city in the west of the country.
The centre and the heart of the city is surrounded by its historical ramparts, which contain the Medina. Inside the latter, there are many labyrinths of narrow alleys that will thrill you and fascinating architecture and frameworks.
Marrakech is one of the big size cities of the Kingdom of Morocco and one of the ancient. It is a mythical vast and well-built city. It adds an essential feature of the Marrakech people's history, culture, and tradition. Thus, it represents a culture significant in Morocco.
It holds a bazaar that is abundant in all kinds of traditional goods. It presents a skilful balance between treasures of the past and progressive of the present.
It holds some most charming gardens and many bougainvilleas, palm trees. Their freshness emanates the floral scents of jasmine and orange blossom.
Its buildings have a uniques contrast of colours. It is mostly made up of pink adobe walls. This gives the city a distinct beauty of its own. Having the tallest minaret in the city makes Koutoubia Mosque the symbol of Marrakesh.
It holds many luxurious palaces and many grandiose decors. Its buildings have a uniques contrast of colours. It is mostly made up of pink adobe walls, which gives the city a distinct beauty.
It is closed to snow-capped mountains. Thus the backdrop of the High Atlas snow-capped peaks and the city's pink adobe colour manifests its fascinating beauty. This produces the true nature of Marrakech.
When you are inside the ramparts, following striped shades of the sun is an experience you don't want to miss. You will mingle with locals and daily activities. Your five senses will be exposed hustle-and-bustle of the Medina.
You will  experience:
Scents of cedarwood.
The smell of fresh food/spices.
Bright colours and bursts of voices.
The sounds, colours and smells you will experience create a fantastic combination. It is an invaluable experience. Also, inside the Medina, the local souk is where you will experience all kinds of local goods.
Some of these local products include:
Jewelry.
Carpet.
Pottery.
Traditional textiles.
Leather shoes, and so much more.
Marrakech is one of the most well known imperial cities in Morocco. It is full of riads, which are Moroccan square-shaped houses. Thus, to fully enjoy your time and connect with the locals and get in touch with their culture, Riad is the place to stay. Your experience will be extraordinary and unforgettable. These riads create a unique atmosphere as they have some intriguing designs.
These include:
Plants that embellish the courtyard and the square.
A fantastic open central patio with a swimming pool.
Jammaa Elfna
Jammaa Elfna square is one place that you won't want to miss. This square is one of the most diverse and welcoming places in the world. It is where you will observe all kinds of activities. From musicians, storytellers to snake charmers, and so much more.
Taking a horse-drawn carriage is an experience that you cannot pass. A four-wheeled buggy ride is the most recommended one. This is because its routes range from Jemaa el-Fnaa to the city's Palm Grove. You will surely enjoy cruising around this historic city.
Some of the fantastic places that may interest you to Visit while in Marrakech:
Badi Palace, Bahia Palace.
Kasbah Mosque, Theatre Royal.
Koutoubia Mosque, Saadian Tombs.
Archaeological site The Saadian Tombs.
La Mamounia Palace, Hotel Royal Mansour.
Marrakesh Railway Station, Menara Airport.
Ben Youssef Madrasa, Marrakech Museum.