If you're looking for a hidden gem in Morocco, look no further than Tiznit. This city, located in the south of the country, is often overlooked by tourists in favour of more popular destinations like Marrakech and Casablanca. However, Tiznit is a beautiful city with a rich culture and history that is well worth a visit.
Tiznit was founded in the 12th century by the Merinid sultan Abu Yaqub Yusuf and was a strategic military outpost. It is known for its silver jewelry, leatherwork, and other handicrafts.
Despite its small size, Tiznit has a lot to offer visitors. From its Medina (old city) to its souks (markets), there is much to explore in this hidden gem of a city. So if you're looking for an off-the-beaten-path destination in Morocco, add Tiznit!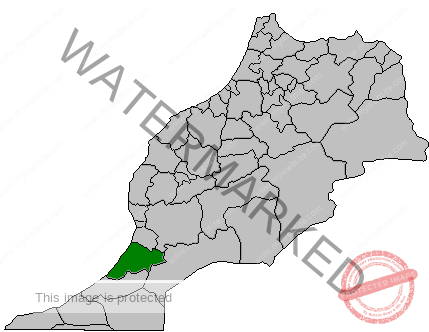 Tiznit: A City Unlike Any Other
Tiznit is an oasis of calm in the south of Morocco. From its striking Berber architecture to its tranquil atmosphere, this hidden city is unlike anywhere else in the country. Sitting snuggly at the foot of the Anti-Atlas mountains, Tiznit is a picturesque retreat. Its narrow, winding roads lead visitors on a journey through the city centre and beyond, revealing traditional buildings, artisan crafts, and some of the best-preserved historic sites in the region. What makes Tiznit truly unique is its old city, or Medina, which has been beautifully preserved for hundreds of years. Artisans have been crafting traditional items like silver jewelry and leatherwork for generations here. Visitors often find themselves mesmerized by the old-world craftsmanship and dedication to quality on display. The Medina, located in the centre of the city, is rich in history and culture and is a must-see for all visitors to Tiznit.
The People of Tiznit
The people of Tiznit are some of the friendliest and most welcoming in Morocco. Visitors to the city are quickly taken in and embraced, as the locals are known for their hospitality and willingness to share the city's history and culture. Tiznit is a city of both old and new, and locals take every opportunity to share their expertise and knowledge with visitors. The city also has a bustling social life and a range of activities and nightlife. Young and old come together to play traditional games like dominoes in the streets, and the local cafes are popular hangouts for friends and family to spend time together. In addition to this, the people of Tiznit are passionate about their traditional crafts and there are plenty of opportunities to purchase high-quality silver jewelry, leatherwork, and ceramics from local artisans.
The Culture of Tiznit
The culture of Tiznit is truly unique, and visitors will quickly find themselves falling in love with this vibrant city. While it has a modern side, the city is still very much in touch with its traditional past. Traditional Berber crafts are being practiced and passed down in the Medina through generations of skilled artisans. In addition to this, Tiznit is a cultural melting pot with many different ethnic backgrounds, including Berber, Arabic, and African. This is reflected in both the customs and the cuisine of the city, with dishes like "Tajin" (slow-cooked meat) and merguez (spicy grilled sausages) being particularly popular.
The History of Tiznit
Tiznit has a long and fascinating history dating back to the 12th century. The city was founded by the Merinid sultan Abu Yaqub Yusuf in 1184, and it quickly became an important military outpost. During the 19th century, Tiznit was a prosperous trading center and a major exporter of silver crafts and other items. In 1912, Tiznit became part of the French Protectorate of Morocco and was remodelled in the French style with arcades, fountains, and public squares. After independence in 1956, the city grew rapidly, and the population increased by more than tenfold. This growth brought cultural diversity and expansion, and it continues to be an essential economic and cultural center in the region.
Tiznit Today
Tiznit has come a long way since its founding in the 12th century. Today, it is a thriving city of almost 100,000 people and is an important center for arts and culture in Morocco. Whether art, music, or films are being produced, something is always going on in Tiznit. The city is also a popular destination for travellers seeking an off-the-beaten-path experience, and there is plenty for visitors to do and see. The old town is home to the city's many traditional crafts and artisan workshops. In addition, Tiznit is the gateway to the Anti-Atlas mountains, making it an excellent base for hikers who want to explore the region.
Conclusion:
Tiznit is an incredible city with a rich heritage and culture and is well worth a visit if you're looking for an off-the-beaten-path experience in Morocco. Its artisan crafts are some of the finest in the region. Add to this the welcoming people and vibrant social life, and you have the perfect destination for an unforgettable trip.